Flood Insurance
Your Reliable Flood Insurance Company in Venice, FL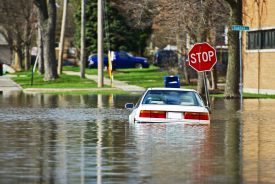 The Risk You Take When Forgoing Flood Insurance
Working with a flood insurance agent Venice, FL trusts is very important. Since the state of Florida is a peninsula and hurricanes are common in our region, ensuring you have reliable coverage for any damages caused by flooding is vital. If you're looking for a flood insurance company Venice, FL residents recommend, you've come to the right place! Evolve Insurance Agency offers affordable flood insurance that you can bundle with a home or business policy, too. We look forward to keeping your future safe by protecting your property.
In many other states, you may be able to get away with not having comprehensive flood insurance. We don't recommend that if you're living in Florida, though. Talk to a flood insurance agent Venice, FL can rely on to better understand the implications of experiencing a natural disaster without a policy. If your current homeowner's insurance policy doesn't cover flooding, it's important that you get the coverage you need.
Minor flooding can damage your foundation, encourage mold growth, and destroy your possessions. While these may be resolvable occurrences, severe flooding incidents can leave you in a much more dire situation. Your home's furniture could wash away, it could shift off its foundation entirely, or it could collapse from the pressure of the flowing water. At Evolve Insurance Agency, we don't want to see you risk everything you own and lose it all. We can ensure your property, assets, and finances are protected in the event of a tragedy.
Contact Us Today
For more information from the flood insurance company Venice, FL residents depend on, contact us today. We're happy to set you up with a team member to find a policy that works for you. If you're interested in bundling your policies, we can do that, too! We look forward to working with you.