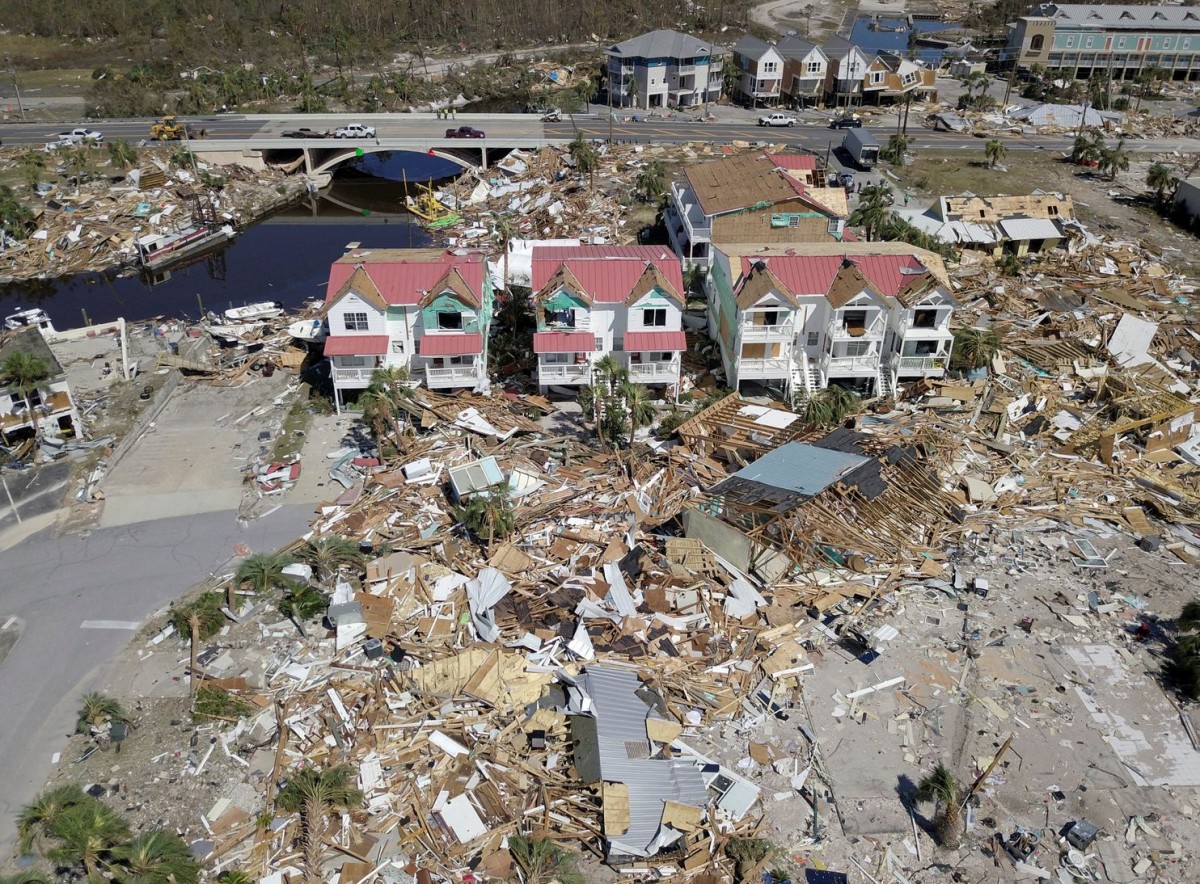 Aerial photo of damage caused by Hurricane Michael in Mexico Beach, FL on October 12, 2018 (Dronebase/Reuters) (HANDOUT/Reuters)
Hurricane season is here and the time to plan is NOW - prepare yourself before a disaster strikes! Did you know there are expected to be more hurricanes this year than what typically occurs every year on average?! According to the National Oceanic and Atmospheric Administration (NOAA), "the outlook predicts a 60% chance of an above-normal season. NOAA's Climate Prediction Center is forecasting a likely range of 13 to 19 named storms (winds of 39 mph or higher), of which 6 to 10 could become hurricanes (winds of 74 mph or higher), including 3 to 6 major hurricanes (category 3, 4, or 5; with winds of 111 mph or higher)" (NOAA, 2020). Hurricane season here in Florida runs every year between June 1st and November 30th.
If you aren't already aware, it's Florida's Hurricane sales tax-free weekend this weekend! The sales tax-free weekend runs from Friday, May 29, 2020, through Thursday, June 4, 2020, and if you haven't purchased any supplies yet, now would be a great time!
It's important to consider the following while making preparations for this season:
DEVELOP AN EVACUATION PLAN: know your routes and available shelters. If you plan on leaving, review the CDC's latest guidance on COVID-19 and how it might impact your evacuation plans. Maybe consider finding an out-of-town friend or relative that you and your family can meet with once you have safely evacuated your area. If you decide to stay at a hotel out of town, be sure to make reservations as soon as you get the warning. Availability will fill up quickly – trust me, it's no fun having to sleep, and share your sleep spot, with your dog, in your car, in a Starbucks' parking lot. Be sure to carry important documents, like IDs, cash, and copies of insurance, and write down a list of important contacts on a sheet of paper to carry with you at all times.

Find your county's Emergency Management's contact information and website, and learn more about your local evacuations routes, shelters, and healthcare facilities: https://www.floridadisaster.org/counties/

REVIEW YOUR INSURANCE POLICY! Do you carry WIND coverage on your policy? Do you carry flood coverage? Flood coverage is excluded on most home insurance policies, and usually must be purchased as a separate policy. Remember, if a storm surge damages your home that will likely be called a flood loss, which means you NEED flood insurance to be covered. CALL EVOLVE INSURANCE AGENCY TODAY AT 941-244-2760 IF YOU ARE INTERESTED IN A QUOTE OR IF YOU WOULD LIKE US TO REVIEW YOUR POLICY!
STAY UP TO DATE WITH WARNINGS AND ALERTS: Make sure you have a few ways to receive warnings and alerts! Here are a few suggestions:

Mobile Apps:

FEMA has developed a mobile app to receive real-time alerts

If you have an Apple device, text APPLE to 43362 (FEMA)
If you have an Android device, text ANDROID to 43362 (FEMA)

Florida 511: contains real-time accident and incident information for the entire State of Florida. For more information or to download, visit: https://fl511.com/App
Byte to Bites: find a local food distribution center, farmers market, soup kitchen, and food pantry. For more information or to download, visit: https://bytetobites.com/
GasBuddy: find available gas stations near you. For more information or to download, visit: https://www.gasbuddy.com/
Florida Storms (Florida Public Radio Emergency Network): stay informed of potential weather or hazards. For more information, visit: http://fpbs.org/get-emergency-info-on-free-florida-storms-mobile-phone-app/

Radio: know what radio frequency your local weather stations are located on.
Community and government alerts: sign up with local community alerts, and know that you may receive alerts, that you do not have to sign up for, sent directly by the government through the Wireless Emergency Alert System or Emergency Alert System.

STRENGTHEN & PROTECT YOUR PROPERTY: be sure all doors and windows are completely sealed; clean up and remove any debris from around the yard, gutters, and drains; trim back any trees and shrubs in close contact with your home; consider installing hurricane shutters; bring in outside appliances and furniture; gather and lay down sand bags around entry points of your home; and make sure you carry the right insurance coverage! Check out the following flyers published by Sarasota County with some more helpful information about:
HELP YOUR COMMUNITY: Many people are unable to prepare themselves for the Hurricane, whether it be due to physical, financial, or transportation issues. Check with any of your neighbors, or those who you may think need some help, like senior adults or someone who is disabled, and see how you may be able to help.
GATHER ENOUGH FOOD AND SUPPLIES to last for at least 72 hours and have an emergency kit ready. Some supplies to consider in your kit, include:

Generator
Gas cans and gas, or propane
Sandbags
Water (a good rule of thumb: one gallon of water per person per day)
Non-perishable food and snacks
Infant food, water, and supplies
Pet food, water, toys, and supplies
Manual can opener
Hand-cranked, or battery-powered, flashlights and radios
Power banks to charge cell phones
Matches and lighters
Trash bags, plastic cups, paper plates, and plastic utensils
First aid kit
Personal hygiene supplies
Medications
Face coverings
Gloves
Disinfectant supplies
Baby wipes and toilet paper
Entertainment: games, books, art, etc.
Blanket, pillow, & sleeping bag
Cash
Important documents, like IDs and copies of insurance policies and necessary cards
If you plan on evacuating:

Flares
Jumper cables
Change of clothes
Spare tire
Extra gas
...toilet paper. No lie, I actually needed this the most when I fleed Florida back when Hurricane Irma hit and thankfully I happened to have a brand new pack in my trunk. Many businesses, gas stations, and rest stops were either closed or packed with never-ending lines. When you are non-stop driving for hours and really have to go but can't, desperate times may call for desperate measures - make sure you are prepared!

DON'T FORGET ABOUT YOUR BUSINESS! Make sure you carry the proper insurance coverage for any of your business' building structures and contents. Create a plan ahead of time to know how you will continue operations when or after a disaster strikes.
Make sure you are prepared! You can view what items qualify for Florida's Hurricane sales tax-free weekend by reviewing the following document: https://revenuelaw.floridarevenue.com/LawLibraryDocuments/2020/05/TIP-123007_TIP_20A01-02_FINAL_RLL.pdf
Do not hesitate to contact Evolve Insurance Agency for a free, no-hassle insurance quote! As an independent insurance agency, we have the ability to shop your home around with the many different carriers we write with. We will be more than happy to offer you home insurance quotes to provide WIND coverage for hurricanes, winds and windstorms, hail, and tornadoes - some of our home insurance carriers will even offer a flood endorsement to include flood coverage on your home insurance policy, too! We can offer quotes for most homes, condos, manufactured and mobile homes. Give Evolve Insurance Agency a call at 941-244-2760, and do not hesitate to miss out on this oppurunity to purchase WIND coverage before any carriers enforce a binding restriction!
---