Collector Car
Venice, Florida Collector Car Insurance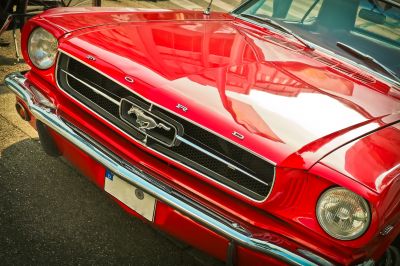 We have access to 4 different collector vehicle carriers!
Finally one agency that can handle ALL of your insurance needs - including for that special beauty tucked away in your garage. Evolve Insurance Agency can help you find the right coverage for your collector or antique car for the right price. Collector cars and trucks have different insurance needs and offerings than regular auto insurance and at Evolve Insurance Agency, we can provide those options for you. Most local agents have access to only one classic auto insurance carrier, and the price you pay will surely show it. We are proud to say we have access to 4 different classic auto insurance carriers! We are pleased to offer Hagerty Insurance, Grundy Insurance, Chubb Insurance and American Modern Insurance Companies. We also support the local Venice AACA Antique Car Club chapter and encourage you to ask some current members about us!
Classic cars are usually in the category of antique once the vehicle is 15-20 years old or older. Collector car insurance coverage can also include exotic autos, sports cars and rare automobiles even if they are not quite that old. Certain, limited-production models can be insured on a classic auto insurance policy fresh off the showroom floor.
Collector Car Insurance in Venice, Florida
We can customize a Florida collector car insurance product that will make sure your classic, exotic, sports, rare or antique car can be protected. Our packages may include:
Special claims and repair options
Flexible use coverages
Value coverage
Competitive premiums that can be half the cost or less of a normal auto policy. Many times the annual premium is less than $300 (yes, that's right, I said annual premium less than $300)!
Liability and damage options
Agreed upon evaluations of the car's value in the event of a total loss.
When combined with a personal auto policy, you can potentially benefit from enhanced coverage on both policies.
Because of the exhausted list of benefits associated with this type of insurance, many companies have strict stipulations when agreeing to extend such coverage. Typical requirements could include:
The vehicle must be in very good condition and be a collectible type of vehicle make/model. Sorry, we can't offer to insure your Toyota Corolla on this type of insurance policy regardless of how old it is.
No driver aged 25 or under is EVER permitted to drive the vehicles. Any licensed driver within this age range living in your household would be named in the policy as an excluded driver. No coverage whatsoever would apply if it is discovered they drive the vehicle.
The vehicles must be kept in a fully enclosed, locked garage when not in use. Professionally installed carports, public and semi-public parking garages may be acceptable with underwriting approval and may be contingent on selecting a deductible.
You must have at least one daily use vehicle for every licensed driver in your household. If you are a retired couple, you may be allowed to have only one daily use vehicle subject to underwriting approval. When requesting the policy be bound, you will be required to furnish a copy of your regular use auto insurance declarations page to confirm the number of daily use vehicles in your household.
Vehicles are typically subject to annual mileage restrictions. Mileage restriction plans vary by vehicle, but typical options include 1,000 miles per year, 3,000 miles per year, and 5,000 miles per year.
Vehicles may not be used for any type of common errand running, commuting, or travelling to/from school. The vehicle can only be used for pleasure use such as pleasure joy rides, a date night, trip to the ice cream shop or beach, etc.
You must have a relatively clean driving record. Aside from one ticket and/or one accident, you and any driver on your policy must have a good driving record.
We are a supporter of the local Venice AACA Antique Auto Club Chapter and are involved in the local antique auto community. We can service your antique car insurance needs in Venice Florida including the Englewood, Nokomis, North Port, Port Charlotte, and Sarasota areas.